by

On August 2, 2018 Dietrich Christian Humbke would have been 173 years old, but his life was cut short when he was killed in an accident 12 days short of his 54  birthday. In 1999 I had no idea of who my great grandfather was other than that he was German – not even a name! That summer of 1999 I spent July tracking down his name and ended up leaving flowers on his grave site in Iowa. I went to court houses, libraries and archives that enabled me to walk on the land he had broke and farmed in South Dakota and Idaho.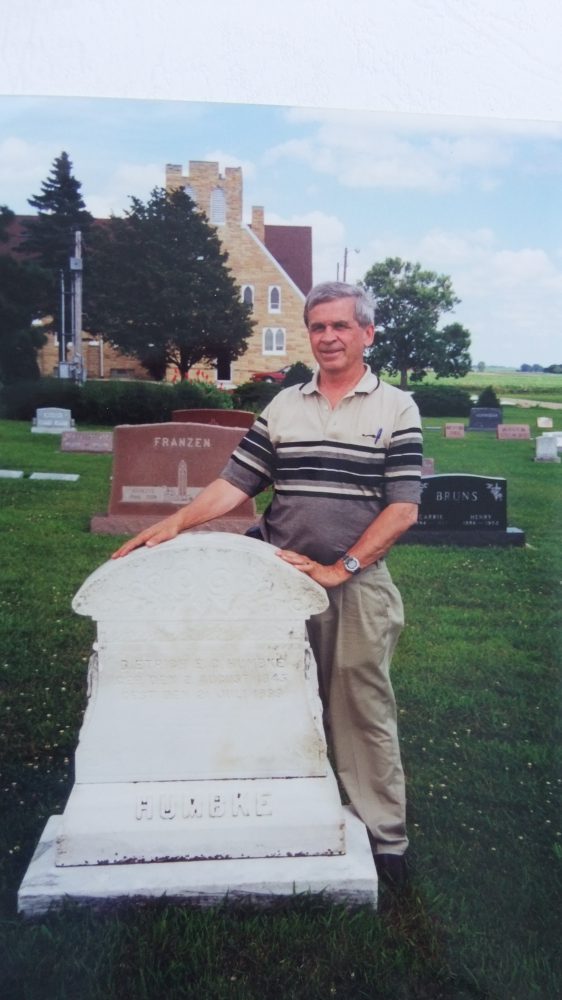 Over the next 15 years,  I spent most of my time in China, but upon returning to Canada the genealogy flame flared up and I started a website to gather and share memories of distant ancestors. It has personally been very rewarding and now I feel an emotional attachment of gratitude and pride in all of the ancestors I have come to know.
Today, August 2, 2018, I hope you pause and think of Deitrich, whose blood runs thru all our veins. As head of the Humbke family and with his wife they assumed the responsibility and task of bringing a young family to America where it  has spread  from coast to coast in Canada and the United States, plus the continents of Australia, New Zealand, Asia, Africa and back to Germany.
Family Tree – Our Paternal Grandparents
Below are the grandparents and  5 sets of paternal (great grandparents to great-great-great-great-great-grandparents). 
I am working on a family tree through myheritage.com and below am including the information on  the 7 paternal grand parent older than my great-grandparents, Dietrich and Luise Humbke. They cover the 310 year period of 1620 to 1930 and 7 generations of Humbkes.
Tielcke HUMBKE b. 1620 Windheim, Germany; d. SEP1669 Windheim; m. 1643 Metcke (STANNEN) HUMBKE b. 1620 Windheim; d. 26DEC1680 Windheim #8. Metcke's father was Nn STANNEN b. 1595 Kries Minden. 1 girl and 4 boys
Hinrich HUMBKE b. 1646 Windheim #8, Windheim, Germany; d. 04MAR1709 Windheim; m 20JUL1681 Ann Christina (WESTENFELD) HUMBKE b. 1650 Windheim #11; d. 24JAN1731 Windheim #8. 4 girls and 5 boys (1 still born).
Cord Hinrich HUMBKE b. 22NOV1683 Windheim #8; d. 13FEB1728 Windheim #8; m.  22NOV1714 #8 Anna Margaretha (BUECK) HUMBKE Windheim #8; b. 19JAN1688 Schaffhorst #13, Windheim; d. 13DEC1715 Windheim 8. 1 boy.
2nd wife Anna Margarethe (STOPPENHAGEN) HUMBKE b. 28FEB1687 Windheim 3; d. 18MAR1746 Windheim 8.  3 girls and 3 boys
Johann Hinrich HUMBKE b. 25NOV1715 Windheim #8; d. 28OCT1757; m. 20JAN1737 Anna Clara (JAEGER) HUMBKE b. 14JUN1715 Dohren #29; d.  d. 18MAR12DEC1779 Joessen, Windheim – 3 girls and 2 boys.
Cord Hinrich HUMBKE b. 25JUL1747 Windheim #8; d. 27NOV1782 Windheim #8; m. 31DEC1769 to Catherine Christine Louise ERNSTING b. 04MAR1748; Ikse #5 d. 18DEC1799 Windheim #8.  3 girls and 5 boys
Johann Carl Dietrich HUMBKE b. 01APR1785 Windheim #8; d. 04MAY1843 Windheim #57; m. 17MAR1816 Windheim, Sophie Marie (RODEMEYER) HUMBKE b24SEP1785Windheim #22; d.03MAY1841 Windheim #57. 2 girls and 2 boys
Ernst Dietrich Christian HUMBKE b. 31JAN1821 Windheim #57; d. 06NOV1866 Windheim; m. 11MAY1845 Sophie Louise (WIEBKE) HUMBKE b. 30JAN1819 Holge, Windheim #22; d. 06NOV1866 Burial 09NOV1866  Windheim #57.
The following 4 boys and 3 girls comprise the children of Ernst Dietrich Chrisitian Humbke and Sophie Louise (WIEBKE) HUMBKE. They are my Grand-Grand Uncles and Aunts. 
My Family Tree –  My Paternal Great-Grandparents
Ernest Dietrich Christian HUMBKE b. 02AUG1845 Windheim #57: christened 10AUG1845 Windheim Church; d. 21JUL1899 Woden, Iowa; m. 27OCT1867 Sophie Louise  (SCHNEPEL) HUMBKE Windheim; b. 11SEP1843 Dohren #38; d. 24NOV1930 Wetaskiwin, Alberta. 7 girls and 2 boys
My Family Tree – Great-Grand Uncles and Great-Grand Aunts
Wilhelmine Louise [Luise] Charlotte (HUMBKE) BUCHORN b. 19JAN1848 Windheim #57; d. 10FEB1933; m. 27NOV1974 Johann Dietrich August BUCHHORN b. 07AUG1849 Ovenstaedt #45, Westfalen. No Children.
Wilhelmine Sophie Louise Charlotte HUMBKE b. 13JUN1850 Windheim 57, Christened 30JUN1850 Windheim 57, d. 17JAN1854 Windheim 57.
Louise Sophie Caroline (HUMBKE) HANKE b. 02SEP1852 WINDHEIM 57; d. 24MAR 1878 Windheim #148; m. 13DEC1878 Windheim #149 Carl Friedrich August HANKE b.23OCT1849 Windheim #149. They had twin daughters who died shortly after birth.
Ernst Heinrich Christian HUMBKE b. 31AUG1854 Windheim #57; d. 08JAN1938; m. 24SEP1886 Johanne Charlotte Sophie (ROMBKE) HUMBKE  b 24NOV1860 Windheim #21. Had 2 girls and 3 boys.
Conrad (Chris)Dietrich Christian Dominicus HUMBKE b. 04JAN1857 Windheim #57; Christened 18JAN1857 Windheim #57; d. 07JAN1938 South Dakota; m. 26NOV1889 White Lake, South Dakota to Marie DIRKS b. South Dakota. Had one daughter
Conrad Dietrich Friedrich HUMBKE b. 07MAY1859 Windheim #57; d. 07JAN1864 m. 23OCT1885 Windheim #44 Louise Lisettte Dorothee (DAVID) HUMBKE, b. 07JAN1864 Windheim #13; d. 15JUL1886 Windheim #44. Louise died at the birth of a child which died 1 1/2 months later. Second wife was Hanna Christine Wilhelmine (BRINCKMANN) HUMBKE b. 14NOV1861 Ilserheide, Lahde #4, m. 18DEC1888. They had 10 children.
As you can see I am very short of photos of ancestors and would love to receive pictures of the named ancestors.
I would personally like to Thank Pastor Bob of Austin, Texas for the tremendous help he has given me.  Most of the accurate information on ancestors that I am passing on to you is from him.
Pastor Bob has over one million in his family tree and has been to churches, cemeteries, families etc. in Windheim and other Germany locations to verify information. I believe his records are the most accurate available to me. What he has done and his willingness to share is a blessing for all of us ancestors.
Roger Humbke                                                                                rogerhumbke@hotmail.com                                                    1-780-782-6277
(PLEASE CLICK ON THE BLOG # ON THE TITLE AT THE TOP TO OPEN A COMMENT BOX BELOW)






by