by

My name is Roger Albert Humbke and I presently (2020) live in Edmonton, Alberta, Canada with my wife, Liang, Bi Hong (Fanny) and her daughter, Jing, Feng Yi (Carrie) from Guangzhou, China. Fanny is working at the Chinese Seniors Lodge in Edmonton; Carrie is completing a Marketing Degree at the Northern Alberta Institute of Technology; and I am fascinated and addicted to researching past/present Humbke ancestors and relatives, Lucid Dreaming, Out-of-Body Experiences; Psychedelics; and Hypnotherapy.
Through the website – https://humbke.com (started in 2016) you will be able to find out who my (our) ancestors (individuals and families) were; when they lived; where they resided; how they spent their life; and what they accomplished.
The families of Lawrence & Marvalin (VANOUCK) HUMBKR family held a reunion  at the David Thompson Resort (West of Rocky Mountain House, Alberta) in July, 2014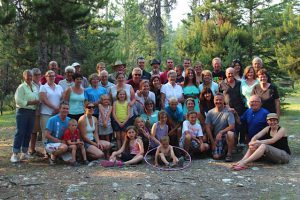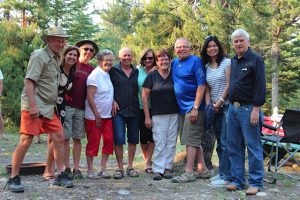 I am multifarious, educator/facilitator/entrepreneur who has become more focused on learning new knowledge and skills required to research and write on my family's history.
My  goals also include developing new attitudes towards a senior's life and on-line business. The years 2000 to 2012 were spent in China working for the Bank of China, Shenzhen's Children Hospital, University of Shenzhen, Guangzhou & Shenzhen Daily Newspaper Group, Canadian International School Sanya, JMD Manufacturing Group and other Governmental bodies. Seven of those 12 years were spent developing Canadian High School Programs in Chinese Public High Schools. Our graduates entered English speaking universities, primarily in Canada and the US, and are now employed citizens who are raising families.
My greatest joy in life came when I changed, in the early 1990's, from being a TEACHER to a FACILITATOR; and was focused on changing STUDENTS into LEARNERS. Learning creates an ENDORPHIN RUSH that becomes an ADDICTION.
Multifarious individuals, like myself, with Attention Deficit Hyperactivity Disorder (ADHD) are most often high risk takers who crave excitement and change. Although I have been a teacher/principal for 25 years, I have enjoyed life as a hotel owner, commodity broker, real estate salesman, taxi driver, Academy of Learning Franchisee, personal development coach researcher, and started a number of business.
Lucid Dreaming, Out-of-Body experiences, Past Lives, Hypnotheraphy, Spirituality, Online Learning for Seniors, historical fiction, trading gold/silver/ uranium stocks, and travel are just some of my eclectic interests.
Web sites are:
https://humbke.com
https://luciddreamingforseniors.com
https://benefitsfromusingpsychedelics.com
https://blockchainlearners.com
Email: rogerhumbke@hotmail.com
Phone: 780-782-6277






by