by

2020 – Annual Straweberry Tea at Verdun School CANCELLED due to Covid-19 Pandemic of 2020.
2019 – June 2, Sunday 2PM Annual Strawberry Tea at Verdun School
2016 – June 5, Sunday 2PM  Annual Strawberry Tea at Verdun School. Hughie Greene (age 94?) is the honored guest this year.
Directions: From Wetaskiwin, take highway #613 and go straight East for  11 miles; turn right and go 2 miles South on Range Road 222; turn right and go 1/2 mile East on Township Road 450; and the Verdun School be on the left side (North) of the road. If you have trouble finding the school – Phone 780-782-6277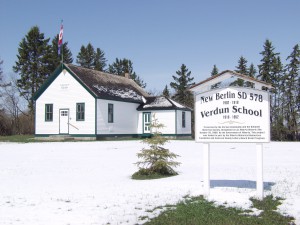 For further information on Verdun School and its location, please see:
https://hermis.alberta.ca/ARHP/Details.aspx?DeptID=1&ObjectID=4665-0777
http://www.albertaonrecord.ca/verdun-school-district-no-587
Please leave a comment or question below. I would appreciate your feedback and will consider all suggestion to make this a more informative, useful website. Any and all information is much appreciated.
Web site: www.humbke.com
Email: roger@humbke.com
Phone: 780-782-6277






by