by

A family tree consisting of 55 pages prepared by Daniel Williams, grandson of Fred and Hulda (WICKLAND) HUMBKE, goes back around 16 generations (400 years) to Tieleke HUMBKE (born between 1616 & 1620).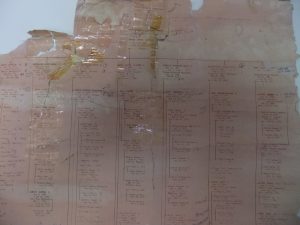 A rolled-up version of the family tree for Dietrich and Louise (SCHNEPELl) HUMBKE prepared by Dennis GEORGE, grandson of Joe and Mary (HUMBKE) GEORGE, occupies 7 feet on a wall and shows the families of each of Dietrich and Louise (SCHNEPEL) HUMBKE's 7 children that lived to adulthood.
Each of the 7 families consists of the following lengths: 
Ernest Sr. and Mary (WESTENFELD) HUMBKE – 3 ft 2 inches
Conrad and Catherine (HUMBKE) CONRADI – 9 inches.
Karl and Wilhelmine [Mina] (HUMBKE) CALLIES – 4 ft 5 inches.
Joe and Mary (HUMBKE) GEORGE – 5 ft  5 inches.
Dick and Hulda (WICKLAND) HUMBKE – 6 ft 10 in
Dave and Alvina (HUMBKE) FONTAINE
William and Emma (HUMBKE) HARRIS – 1 ft 6 in
I presently maintain a family tree on MYHERITAGE.com which contains 1,968 entries.
Most of my German entries came from Pastor Robert C. Greene (1938 to 2019) of Georgetown, Texas. Pastor Greene had well over a million entries in his family tree.
On behalf of all kin, I would like to thank Dennis George, Daniel Williams, and Pastor Robert C. Greene   for their efforts in researching our ancestors and the locations of presently living relatives.






by