Dear Relatives,
Last night (Dec. 14, 2016) I watched with my wife, Fanny, a movie I had borrowed from the Edmonton City Library. It was titled "The Homesman" and was produced by Tommy Lee Jones in 2014. We watched both the movie and all the optional documentation.
What amazed me, the most, was the effort made to present an authentic look at life during the latter part of the 1800's and very early 1900's. I felt drawn into a time and place in which my great grandmother and grandmother had actually lived and survived.
The influence of the film was profound in its portrayal of just how hard and tragic life could be for women who were homesteaders on the American and Canadian prairies during the last of the 1880's and the start of the 1900's.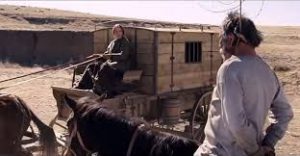 It was the period of time when our Humbke ancestors came from Germany (1879), a land of machinery and culture at the start of industrialization and urbanization, to the virgin unbroken land of desolation, animals and the wilderness of the unbroken prairies of America.
South Dakota, where they homesteaded, was such a place. West of Wetaskiwin the Humbke, Callies, George, Fontaine, and Harris Grandmothers and Great Grandmothers face such a life in the early 1900's, but they all survived and we are the result of their tenacity and support for each other.
In my research I have yet to run across instances of insanity caused by the isolation and hardships our grandmothers and grandmothers must of suffered and can only attribute that to the support of a quickly growing family. They relied on each other during a time when guns and horses were an absolute necessity to survive.
They certainly lived in the types of houses shown in the movie, wore the clothes and yes, women did plow land. Even a women like Mary Bee Cuddy who was of unbelievable personal strength went crazy as a result of "The brutal and desperate lot of women in frontier life".
"The Homesman" is an adaption of a novel written by Glendon Swarthout which I will soon be reading.
Please be sure and let me know your thoughts about the movie and book if you find time to  read them. For me it was a very emotional experience and I became more appreciative of and closer to Louise, Mary and Marvalin Humbke as a result.
I am beginning to realize just how much they went through, as pioneers and homesteaders, to survive and make my life possible.
If you need further motivation to see the movie here is the movie's trailer (also available on you tube).
http://www.imdb.com/video/imdb/vi1203089177/
Best Regards,
Roger Humbke
www.humbke.com                                                                                                                            rogerhumbke@hotmail.com