by

Ernst Dietrich Christian HUMBKE family immigrates Windheim, Germany to White Lake, South Dakota, USA in 1883.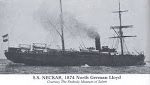 In 1883 Ernst Dietrich Christian HUMBKE (referred to as Dietrich throughout this post), boarded the "Neckar" on July 25, 1883 in Bremen, Germany and arrived in New York on Aug. 4, 1883, with his wife and four of their children. The "Neckar", (an iron hull ship with a single screw, 1 funnel and 2 masts), was built in Scotland for North German Lloyd Line who used it from 1873-96 to transport German Immigrants from Bremen to New York and the far East.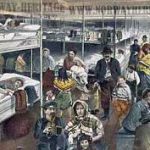 His father had sent his younger brother, Christian, to South Dakota in 1879.  Dietrich's oldest child, Ernest Dietrich Friedrich HUMBKE Sr. (age 16) was sent next and by May, 1882 he was with his uncle Christian at White Lake, South Dakota.
Dietrich and Louise (SCHNEPEL) HUMBKE's family was as follows:
Parents:
Ernst Dietrich Christian HUMBKE b. Aug. 2, 1845 #57 Windheim, Germany d. Jul. 21, 1899 Woden, Iowa m. Oct. 27, 1867 to;
Marie Louise (SCHNEPEL) HUMBKE b. Sep. 11, 1843 Dohren, Windheim d. Nov. 24, 1930 Wetaskiwin, Alberta, Canada
Children:
Ernst Dietrich Friedrich HUMBKE Sr b. Oct. 30, 1867 m. Maria WESTENFELDT 
Katherine Sophie Maria HUMBKE b. Oct. 17, 1869 m. Henrich CONRADI
Sophie Wilhelmine Louise  HUMBKE b. Aug. 30, 1872 – d. Nov. 4, 1872
Sophie Louise HUMBKE b. Oct 3, 1873 – d. Feb. 13, 1878
Louise Wilhelmine Marie HUMBKE b. Jun. 17, 1876 m. Carl CALLIES
Marie Louise Lizettte HUMBKE b. Apr. 1, 1879 m. Joe GEORGE
Dietrich Friedrich Ernst HUMBKE b. Feb.21, 1882 m. Hulda WICKLAND
Alvina Maria Sophia Louise HUMBKE b. Apr 14, 1885 m. Dave FONTAINE
Emma Marie HUMBKE b. Jan. 29, 1890 m William HARRIS
All members of the family were born in Windeheim, Westphalia, Germany with the exception of Alvina and Maria who were born in White Lake, South Dakota.
The family came from the Duchy of Prussia which was established during the Protestant Reformation in 1525 and was the first Lutheran duchy with a dominant German speaking population. It was elevated to the Kingdom of Prussia in 1701 and in 1807-1813 Napoleon Bonaparte founded the Kingdom of Westphalia. In 1815 the Province of Westphalia was formed.
Prussia lost its independence as a result of the Nazis in 1933 and became the State of North Rhine – Westphalia after World War II. It is known as the "breadbasket of Western Europe (in German – kornkammer, or grannery).
For those who have a greater interest I recommend reading the "Iron Kingdom: The Rise and Downfall of Prussia, 1600-1947″ by Christopher Clark (2009).
Windheim is a Church District which contains 7 villages one of which is Windheim on the Weser River. The village is located 380 Kilometers North of Frankfurt or 3.5 hours by car. Population is appx. 500.






by