by

The 3 paintings  of Dick and Hulda HUMBKE's family farm in the Haultain Community, Wetaskiwin, Alberta were done by Dorothy (HUMBKE) GALLANT. Dorothy, the youngest daughter, is the last remaining of the children, and lives on her own in Indian Trail, North Carolina. At age 92 with an excellent memory, Dorothy has been a wealth of photos and information about the family and is still very active on Facebook.
Dick HUMBKE
Dietrich "Dick" Frederick Ernest HUMBKE was the 7th of 9 children born to Ernst Dietrich Christian and Marie Luise (SCHNEPEL) HUMBKE of Windheim, Germany. Dick, born 21FEB1882, would only spend 16 months in the small village of Windheim, Germany before boarding the  "Neckar" for  the sea voyage to New York with his father – age 38, mother 36 and three older sisters (Sophie 14, Minnie 7 & Mary 4).
DIE WINDHEIMER KIRCHE (The Windheim Church) was originally built in 1300's. The main altar picture (top half of photo) was painted in the 1400's and blessed in 1503.
In 1556, the church was made larger by the addition of a tower. In 1600 it became a Protestant (Lutheran) church. Under Frederick the Great in 1769, two wings were added to the main church.
The church was renovated in the 1960's and is now considered a historical site. In all probability this is the church where most members of the HUMBKE family, born in Germany, were baptised.
For those who can read German this is an original copy of Dick's birth certificate giving the date of registration of birth as 24FEB1882.
Upon arriving in America, the HUMBKE family would spend their first year at Buffalo Centre, Iowa before homesteading South East of  White Lake, South Dakota (South West of Plankinton, South Dakota) . Life was very challenging as there was literally a 7 year drought in South Dakota. The highlight of life there would be the births of daughters, Alvina (1885) and Emma (1890), in White Lake, SD.
In 1891 the family bought a small farm near Woden, Iowa where they would stay until early 1902. When Dick was 17 years old,  his father died in an accident (July 21, 1899)  while hauling logs to build a German Lutheran Church on 3 acres donated by his oldest son, Ernst Sr. The next year Ernst Sr. went to Western Canada where on July 31, 1900 he filed for three adjoining 160 acre homesteads, 12 miles East of Wetaskiwin, in the names of his mother, brother Dick and himself.
The whole family moved to Canada in 1901 and lived togeather on their mother's homestead while farming all three homesteads.  The family had a great passion for music and skilled musicians were common in the family. Dick quickly took time to start the Battle River Cornet Band composed of his older brother (Ernst Sr), 2 younger sisters  ( Alvina & Emma), brother in law (Carl CALLIES), Dave & Charlie WIDEN, Guy SUYS and C.R. WIBERG.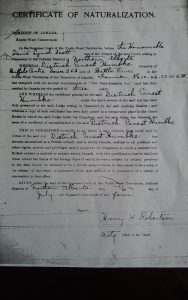 On July 6, 1904 Dick changed from an American to a Canadian and received his Certificate Of  Naturalization as a British Subject within Canada. On Nov. 2, 1904 he received his Certificate of Title stating that he had met all homestead requirements and now had clear title to his 160 acres. Earlier he had bought a steam thresher with his brother-in-law Carl CALLIES and threshed for many local farmers, from fall to early spring, over a period of 5 years. His last steam tractor can be seen at the Stan Reynolds Museum in Wetaskiwin, AB.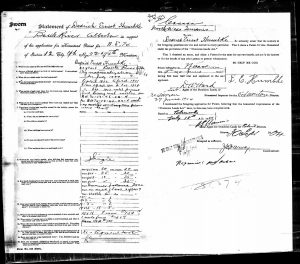 Hulda Wickland
During this time Dick found time to  court a certain Hulda Elizabeth WICKLAND b. 27NOV1889 in Ostersund, Sweden.
Her parents were Andrew WICKLUND and Kristina JOHANSON. I have no date of marriage but they were married in Ostersund, Sweden. According to family members Hulda's biological father is unknown, but most certainly Scandinavian.
As a result of DNA testing an individual named Tim has contacted the Humbke family through his wife and is seeking to find his roots. You can read more about this mystery on  the the facebook page of Scott David Pauley <https://www.facebook.com/search/top/?q=scott%20david%20pauley>. Tim is possibly a great grandson of Dick and Hulda Humbke that was born 24DEC1966 in Toronto and given up for adoption. DNA testing indicates that he is 57% Scandinavian, 24% British, and 6% Western European (German) and physically tall and slender with blond hair and green eyes. He is seeking to find his roots through the facebook page of Scott David PAULEY. If you can help, please do.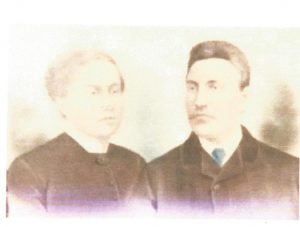 Andrew, Kristina and Hulda left Sweden the end of 1893 for the USA where they spent 5 months before they arrived in Wetaskiwin, Alberta Canada on May 6th, 1894. There was no place to stay in Wetaskiwin so they spent  a few weeks in the Immigration Tent while Andrew searched for a homestead. What an adventure for 4 year old Hulda!
"He picked a homestead in the Crooked Lake District 6 kilometers N. of Gwynne, AB. Now that he had his land he had to fix up a temporary home. He dug a cave in the side of a hill, put on a door, and that served as their first home until he ad one built. This one was built of rails standing on end, all plastered with mud and a so roof. They lived in  this one for many years." 
"The first school was built in 1901.  It was built of logs. There were no desks in those days, just a long table with benches for the pupils to sit on." Taken from TREASURED MEMORIES Gwynne and District.
It was in this school and a new one built in 1907 that Hulda and her 3 siblings would receive their basic education.
Hulda's 2 brothers and  sister were:
Algot Emanuel WICKLAND b. 03DEC1893 in Stephen MN, d. 25JUL1962 in Camrose, AB. Married 18DEC1926 in Edmonton, AB to Joan Mary FOREMAN b. 21JAN1907 in Red Deer, AB, d. 24SEP1986 in Camrose, AB. They had 2 boys and 2 girls.
Eda Alvida WICKLAND b. 27JUN1896 in Coal Lake AB, d. 04FEB1964 in Camrose AB. Married 18SEP1917 in Duhamel, AB to Arthur (Art) SHARKY b. 27SEP1894 in Rudolph, Wisconsin, USA d. 25MAY1973. They had 6 boys and 6 girls.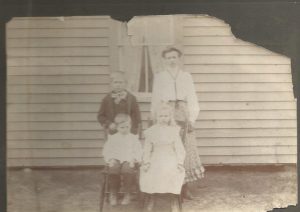 Henry Fredrick WICKLAND b. 06MAR1899 in Wetaskiwin AB. d. 25OCT1977 in Camrose Catholic Cemetery, AB. Married o7NOV1928 in Wetaskiwin, AB to Wilhelmena (Minnie) Teresa BADRY b. 03MAR1907 in Camrose, AB d. 25DEC1958 Camrose Catholic Cemetery, AB. They had one boy and one girl.
The Andrew and Hulda WICKLAND family was not well off, but they were generous with what they had. The quote indicating Hulda's generosity, in making sure no one left her home empty handed, was learned from her mother's example. Like Kristina WICKLAND, Mary HUMBKE (Hulda's sister in law) also had Indians visiting her home because she invited them in.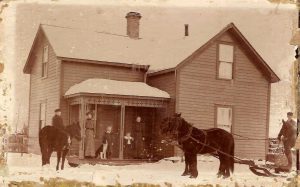 "A band of Indians used to camp at Hay Lakes , on their trips through the woods to  Pigeon Lake they used to stop at the WICKLAND's home. The indians never knocked on the door, they would make several trips around the house stamping their feet to let Mrs. WICKLAND know that they were cold. She would invite them in to get warmed up and made them a cup of coffee and lunch. They always carried a little sack with them and would ask for a loaf of bread when they were ready to leave. The never went away empty-handed." Taken from TREASURED MEMORIES Gwynne and District.
The elder WICKLANDs were to eventually spend there last years on the lot in Wetaskiwin where Dick and Hulda had their home.
The two WICKLAND girls (Hulda and Eda) were prolific and between them they raise 22 children – 10 HUMBKEs and 12 SHARKEYs.
Dick & Hulda's marriage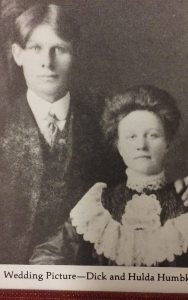 1907 was a very eventful year in the life of 25 year old Dick HUMBKE as he married 17 year old Hulda WICKLAND; started a family that was to become 5 girls and 5 boys; and changed from being a homesteader to trying his hand as a Co-op Store Manager in Gwynne, Alberta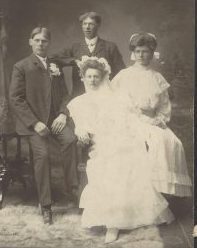 CHILDREN:
Elsie Christine HUMBKE b. 14JU1907 Gwynne, Alberta d.02JUL1997 in Florida Hospital-Walker, Highlands County, Avon Park, Florida. Burial- New Hope Baptist Church Cemetery, Wauchula, Hardee County, Florida       m. 21OCT1928 in Owatoona, Minnesota to John Broadus WILLIAMS  b.       18MAY1899 Columbia City, Columbia County, Florida d. 29JUN1976             Hardee County, Florida,                                                                       Children: 4 girls & 3 boys.
Frederick (Fritz) Algot Christian HUMBKE b. 26MAY1910 Gwynne, Alberta d. 06MAY1982 Wetaskiwin, AB. m. 22OCT1933 in Wetaskiwin, AB to Ruth Nicolena GREENWALL b. 18JAN1910 Wetaskiwin, AB. d. 12JAN1984 Wetaskiwin, AB.                                                                                   Children: 3 boys & 3 girls.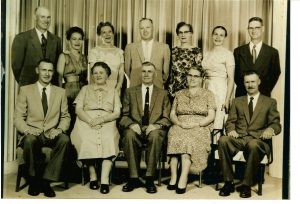 Florence Louise HUMBKE b. 19OCT1913 Haultain, AB d. 22APR 1973 New Norway, AB. Buried Nashville Cemetery, Wetaskiwin AB. m.22OCT1932 in Wetaskiwin to Henry (Hank) Carl JOHNSON b. 30MAR1913 Wetaskiwin, AB. d. 02OCT1996 in Camrose AB. Buried Nashville Cemetery, Wetaskiwin Children: 7 boys & 3 girls.
Conrad Dietrich HUMBKE b. 05MAY1915 Haultain, AB d. 19JUN2011 in Wetaskiwin m. 26APR1937 in Wetaskiwin to Alma Louise Fredarika EIKERMAN b. 26APR1911 Haultain District, Wetaskiwin, AB. d.  APR1989 in Wetaskiwin,                                                                                           Children: 1 girl                                                                                       Divorced in ???? -2nd m. at ???? in 1958 to Ann DENNIS b. ???? in BC. Divorced in ???? -3rd m. at ???? in 1980 Joan WINTERS b. ????  in ????         d. ??JAN2007 in Abbotsford, BC.
Henry August HUMBKE b. 01JUL1917 Haultain, AB d. 11MAR1993 in Haultain District, Wetaskiwin, AB. m. 23JAN1945 in Wetaskiwin to Edith Gunhild NELSON b. 13MAY1926 in Hotagens Jamtlands, Sweden.       Children: 2 boys.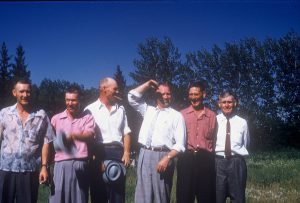 Gordon Earl HUMBKE b. 18OCT1919 Haultain, AB. d. 12DEC2006 in Red Deer, AB. m. 28SEP1942 in ???? to Margaret SCHWENK b. 07JAN1926 Liebling, Romania. d.  ?????2009  in ????                                                         Children: 3 girls & 2 boys.
Norma Mary HUMBKE b. 12OCT1921 Haultain, AB. d. 05JUN2001 Wetaskiwin. m. early 1940's in Wetaskwin, AB to John TROUT b. 18JAN1916 d. ????????? in ????.  Divorced ???? in ???????
Myrtle Eda HUMBKE b. 10JUN1923 in Zolfo Springs, Hardee County Florida. d. 12JUL2005 in Wetaskiwin, AB. m. 7OCT1948 in Wetaskiwin to Basil G. (Sully) SULLIVAN b. 06SEP1918 in Lucan, Ontario. d. 30APR1989 in Wetaskiwin.                                                                                         Children: 2 girls & 2 boy
Dorothy Hulda HUMBKE b. 04SEP1925 in Owatonna, Minnesota. m. 10SEP1949 in Wetaskiwin, AB to Donald Alfred GALLANT b. 18 NOV1920 in Charlotte, Mecklenburg County, North Carolina. d. 18AUG2000 in North Myrtle Beach, South Carolina. Burial Mint Hill, North Carolina.         Children: 3 girls.
Richard Ernest HUMBKE b. 06NOV1927 Wetaskiwin, AB. d. 21AUG2002 in Abbotsford, BC. m. ????????? in ???? to Iona M. AVERY b. ????????? in       ????. d. ????????? in ?????                                                                           Children: 2 boys & 1 girl                                                                           Divorced ???? 2nd m. ????????? in ???? to Katherine Mary KOOP b. 27NOV1938 in ????, AB.                                                                         Children: 3 girls & 1 boy.
CO-OP STORE MANAGERS/OWNERS-1907 to 1913
Dick HUMBKE rented out his 160 acre homestead and moved to Gwynne in 1907 to became a store manager. The families first two additions (Elsie 1907 and Fred 1910) would be born in Gwynne. Starting in 1909, branch stores were opened in Lewisville, Bittern Lake, Wetaskiwin, Millet, Malmo, Daysland, and Calgary. The family was living in Wetaskiwin during the birth of Florence in 1913.
This Advertisement appearing in The Camrose Canadian July 7, 1910, and for several weeks thereafter.                  
                     The Farmers' Co-operative Store Limited                                                         General Merchants                                                                           Head Office: Wetaskiwin  
                         Branch Stores at Gwynne, Lewisville (five miles                                              south of  post Office) and Bittern Lake
Stores will be started at any point where there is sufficient
shares  taken  up  to  start  a  branch  store.   Price of  each
share is $20.00, limited to ten and $2.00 membership extra
with  first  share.   Every  farmer should take an interest  in
This  co-operation.  It will be to his advantage in every  way.
     D. E. Humbke                                                               Manager
*********************************************                          In Canada, a basket of goods and services$20 CAD in 1914 would be worth $215.83 CAD in 2017  
A 1 oz Canadian Gold Coin worth $20  in 1910 was worth                                     $1,712.27 Canadian $ at 4:30 PM on May 31. 20117                       *********************************************
Business went badly for the stores and in 1913 the Gwynne Store failed with the remaining stock being bought by Gwynne merchants, Albert and Evin LEE.
Having spent 100% of my time and effort from 1980 to 1984 building a business in Saskatchewan to consist of 3 hotels in Regina, Shaunavon and Glen Ewan plus the Balloon Ranch in Del Norte, Colorado; and later another 7 years 1993 to 2000 building a chain of 7 adult Computer Training Centers in Saskatchewan, Alberta and British Columbia; and to then walk away in bankruptcy and start over was a roller coaster ride that Dick too must have ridden. The euphoria and depression can be gut wrenching to say the least. We were both dreamers that never gave up.
Haultain Farm 1914 to 1922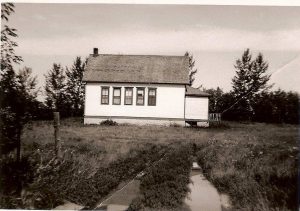 In 1911 Dick had traded his Battle River homestead with Joe GEORGE's  (his brother-in-law) homestead in the Haultain District. Joe was interested in sheep farming and thought Dicks land was very suitable as well as it being next door to his wife's mother, Louise HUMBKE.  It is to this land in the Haultain District that the HUMBKE family returned to farm the land from 1914 to 1922. Children Conrad 1915, Henry 1917, Gordon 1919 and Norma 1921 would join the family in Haultain.
Their farm was a mixed farm and like Dick's brother-in-law, William HARRIS, include the raising of foxes for their skins. The HUMBKE family was known  for their threshing crew.
Florida, Minnesota and North Dakota, USA 1922 to 1927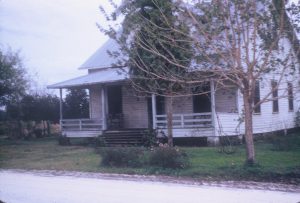 1922 saw Dick and Hulda move again – this time they moved with their 7 children all the way to Zolofo Springs, Florida where they would build a home by 1924 and Dick would find a way to support the family.
Myrtle would join the family in Zolofo Springs (1923) as the first of two children that would be born in the USA.
The family now (1925?) numbering 10, moved to Owatonna, Minnesota where Dorothy would become Dick and Hulda's 9th child (Sept. 1925).
It would appear that they might be on their way back to Canada as from Minnesota they made their way to North Dakota where it is thought HUMBKE relatives were residing.
One gets the impression that Dick was looking for a good opportunity, but failing to find one in America he returned to the Haultain Farm SouthWest of Wetaskiwin.
Return to Haultain Farm 1927 to 1949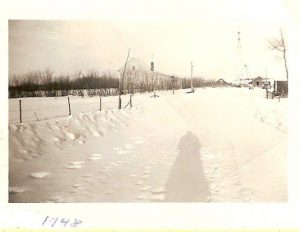 Upon returning to the Haultain Farm Richard Ernest was born in Nov., 1927 and the family now consisted of 5 girls and 5 boys. Elsie, the oldest girl, married (1928) in Minnesota and was to spend the rest of her life with John Broads WILLIAMS raising 7 children in Florida.
The HUMBKE children attended Haultain School which was about 1/2 a mile North. The 5 boys worked on the farm and were part of the HUMBKE threshing crew that was a common site at farms in the area. Dorothy, the youngest daughter, remembers her times fondly.
Using Pop's  steam engine and separator.  When the separator was not in use and parked in it's housing  I would climb up and use the top level for my playhouse –after picking some things  from our garden and in the tool box I would collect a couple or so of baby chicks —until my mother heard the cries of the chicks and said they  needed to be out and fed and watered.
So I didn't do that anymore–Sooo I set up my playhouse in the 'bunkhouse'.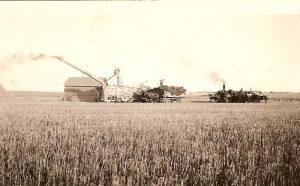 Dick also found time to be a road councillor and weed inspector for the Municipal District of Wetaskiwin and a School Trustee for Haultain School. His interests extended to politics and he was a director of the newly formed Wetaskiwin  Social Credit Constituency in 1935-36. Most farmers were staunch supporters including my parents, Lawrence and Marvalin HUMBKE.
Social Credit is a reform-oriented economic doctrine that for a time was influential in Canada. Social Credit's principles were formulated by an English engineer, Major C.H. Douglas (1879–1952). He argued that economic hardships resulted from an inefficient capitalist economy that failed to provide people with enough purchasing power for them to enjoy the fruits of a society's economic production.
Douglas advocated the distribution of money, or social credit, so that people might have enough income to purchase the goods and services readily produced in society.
Douglas's doctrine had little political impact elsewhere in the world and likely would have remained relatively unknown in Canada, except that in 1932 Alberta evangelist William Aberhart became converted to it. He used his Christian radio program to encourage other Albertans to adopt Social Credit as the means of rescuing the province, and Canada, from the drastic effects of the Great Depression.
In 1935 Aberhart led the new Social Credit Party to victory in Alberta, capturing 56 of 63 provincial Legislature seats with 54 per cent of the popular vote. It became the world's first Social Credit government. The party, first under Aberhart and then, after his death in 1943, under Ernest C. Manning, won nine successive elections and governed the province until 1971. This remarkable success resulted in part from the replacement of social credit fundamentalism, with conservative financial and social policies that even bankers could applaud. Success was also made possible by the careful use of massive oil revenues that flowed into provincial coffers after 1947.  From the "Canadian Encyclopedia"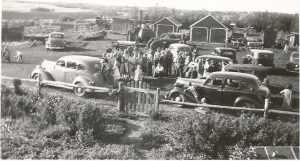 After the harvest in 1936 Dick and his older brother, Ernest Sr., drove to Florida and did not return until May, 1937.
At the Sweetgrass, AB border crossing on October 28, 1936 Dick was identified as being 5 ft. 10 in., ruddy complexion, light brown hair and carrying $100 cash. He reported being a Naturalized Canadian owning 1/2 section of land valued at $8,000 with $4,000 encumbered. His brother Ernest Sr. was 5 ft. 8 in., ruddy complexion, light brown hair and carrying $200 cash. He claimed being a Naturalized Canadian owning 1/2 section of land valued at $8,000 unencumbered.
Their destination was Elsie WILLIAMS of Sulphur Springs, Florida and the purpose given for the trip was a 6 month family visit. On their return from Florida they stopped at Titonka, Iowa in May, 1937 to visit their sister and pay respects to their fathers grave.
Moved to Wetaskiwin 1949
In 1949 Dick and Hulda left the farm and moved to Wetaskiwin where Dick worked for 5 years as a salesman for Alberta Engineering.
Dick and Hulda's love for fresh fruit and warmer winters resulted in Dick building a house in Zolof Spring, Florida near their daughter, Elsie, to which they would go each winter. Rather than making the long drive they  would begin to fly in the !950's.
One of Dick's interest in life was tinkering in his shop with mechanical devices and he had filed patents for improvements to Thresher – Separators" as early as 1921. In  the 1950's he invented the "Alteen Bale Carrier".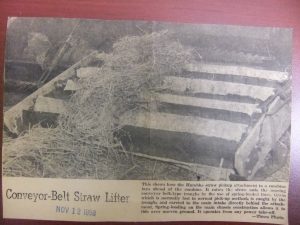 R. Humbkes Mark 60th Anniversary – Wetaskiwin Times, Wednesday, May 3rd, 1967
I was unable to include the Wetaskiwin Times Photo but it was excellent If you'd like to see it email me & I'll send you the PDF file.
One of Wetaskiwin's pioneer businessman and his wife, Mr. and Mrs. Dick Humbke celebrated their 60th wedding anniversary April 24th. The Humbkes received congratulatory messages from the Queen and Prime Minster Pearson, also scrolls from Premier Manning and Lt. Governor Dr. J. W. Grant MacEwan.
A bouquet of roses from daughter Dorothy, a floral arrangement from friends in Haultain and a three tier wedding cake, baked by Edith Humbke and decorated by Arlie Franklin made a lovely setting for the many pictures that were taken. The Orchid corsage and carnation bouttoniers worm for occasion were gifts from daughter Norma. A gift of a washer and dryer from some of their children, grandchildren and friends was greatly appreciated.
Mr. and Mrs. Humbke have 10 children, 45 grandchildren and 47 great-grandchildren. The children are Elsie (Williams) of Florida; Myrtle (Sullivan) and Fred of Wetaskiwin; Florence (Johnson) and Henry of Hautain; Conrad and Richard of B.C.; Gordon and Dorthy (Gallant) of North Carolina and Norma of Boston, Mass.
Two grandchildren, Shirley Pauley and her three children from California, and David Williams, his wife and son from Wyoming were here to attend the celebration.
Mrs. Humbke came to Wetaskiwin with her parents, Mr and Mrs. Andrew Wickland in 1894. She attended school in the Crooked Lake District.
Mr. Humbke came here in 1901. He was the founder of the first co-op store, known as the Farmers' Store at that time.
They were married in 1907 at Wetaskiwin by Rev. Bredlow. Mrs. Ernest Harriss, sister of the groom was bridesmaid and a good friend, Alfred Jevne attended the groom.
The Humbkes farmed in Haultain district for many years and retired to Wetaskiwin in 1949. They spent many winters in Florida at first, but are not able to travel any longer, so now spend their time watching TV, listening to the radio and enjoying visits with their many friends and relatives.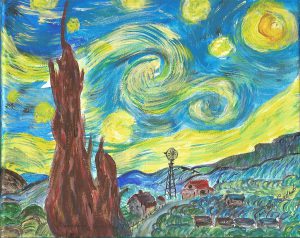 Dick's Will 1968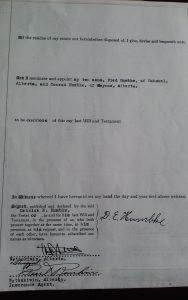 Dick's two page WILL and six page PROBATE are the shortest, cleanest and, to me, the best wills I have read. His love for his wife was strong and he made sure she was well cared for in her retirement. A  common practise of this generation was to disperse land and equipment before the writing of a will.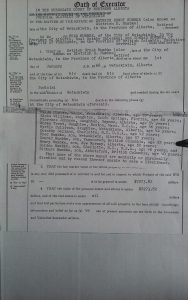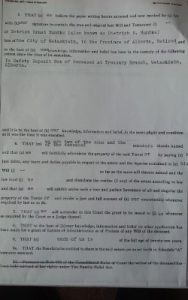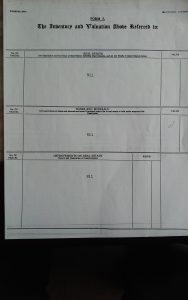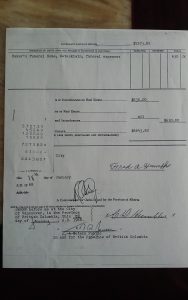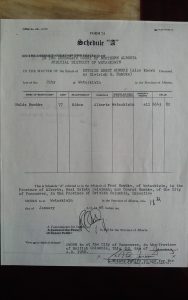 Dick's and Hulda's Obituaries
Dick was to pass away from Lung Cancer in 1968. Mary lived with Myrtle (HUMBKE) SULLIVAN and spent her last few years in a nursing home until her passing in 1977.
Dietrich (Dick) HUMBKE obituary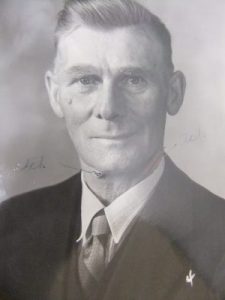 Wednesday, Jan. 17, 1968
Long-time Distric Man Passes Here
Funeral services for the late Deitrich (Dick) Humbke of Wetaskiwin were held were held from Baker Chapel Sunday, January 6. Mr Humbke passe away January 1, 1968 in the Wetaskiwin – Leduc Auxiliary Hospital here after a long illness. He would have marked his 86th birthday in February.
Mr. Humbke was born in Germany and came to Canada in 1901 after spending one year in Iowa. Until his retirement in 1949 he operated a farm in the district. Since then the Humbkes made their home in the city.
He was a life long member of the Lutheran Church.
Besides his wife, Hulda, Hulda, Mr.  Humbke is survived by five sons. Fred of Wetaskiwin, Conrad of Vancouver, Henry of Wetaskiwin, Gordon of Charlotte, North Carolina, and Richard of Aldergrove, B.C. Also five daughters: Mrs. H. Johnson of Wetaskiwin; Mrs. Norma Trout of Boston, Mass.; Mrs Basi (Myrtle) Sullivan of Wetaskiwin; and Mrs. Dorothy Gallant of Charlotte, North Carolina. A sister Mrs. E. Harris of Wetaskiwin ; forty five grand children and forty nine great grand children also survive.
Funeral services were conducted by Rev. James Voigt and Mrs. Pahal as soloist,
Pallbearers  were Mr. Humbke's grandsons: Keith and Morley Johnson; Stan and Leonard Humbke; Larry Sullivan and Brian Humbke. Internment Internment followed in the Wetaskiwin Cemetery.
Baker Funeral Chapel was in charge of funeral arrangements.
Clarifications:
Mr. HUMBKE came to the USA in 1883 and immigrated to Canada in 1901.
Mrs/ John Brodaus WILLIAMS of Florida was Mr. HUMBKE's oldest and 5th surviving daughter.
Pallbearer  Larry SULLIVAN is also known as Lawrence SULLIVAN.
The more I investigated Dick's life, the more I felt we had the same blood running in our veins . We were entrepreneurs who failed, but never gave up, always learning new skills and experiencing life to the fullest.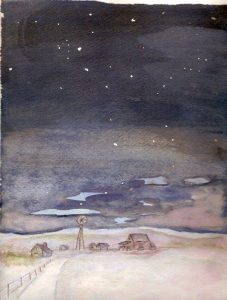 I must say that one big difference, that I envy Dick for, was his ability to create such a wonderful, big, cohesive family through all his moves and ventures. I do have 3 wonderful daughters and 5 grandchildren; have known 5 marriages plus many  wonderful step-children and relationships; and continue to learn new skills while exploring and enjoying life to the fullest.
Researching family member and establishing emotional ties with long gone ancestors has been very rewarding for me.
Hulda Elizabeth (WICKLAND) HUMBKE obituary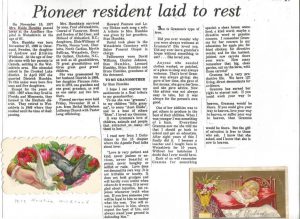 I can send you a copy of this obituary by email which you can download and easily enlarge with 'Windows Photo Viewer'. The resulting copy is easily read. Just email me a request at rogerhumbke@hotmail.com.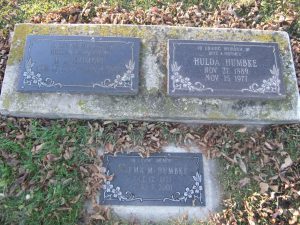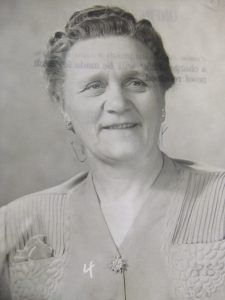 by