by

LUCIDIMINE – The 2nd Time Used BLOG #17  Oct. 19, 2018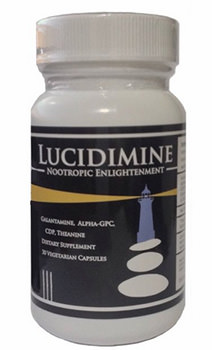 Derek Lee (MA in Developmental Psychology from San Francisco State University) is the founder of the Company (Luciminal LLC 2013) whose stated purpose is:
"Luciminal Nootropics is a cognitive-enhancement start-up offering formulations of nutritional supplements with evidenced-based performance augmentation on mental tasks. Nootropics, or smart-drugs, are rapidly becoming noticed by those seeking peak performance for both the body and mind. Our goal is to make nootropic supplementation as common-place as "energy drinks."Unlike traditional mental enhancers (caffeine, amphetamines, etc.), most nootropic supplements appear to support the brain by making it healthier over time."
from luciminal nootropics Linkedin.com
I first used Lucidimine on Oct. 10,2018 to induce a lucid dream and the results were presented in a previous blog "LUCIDIMINE – A Dietary Supplement that enhances Lucid Dreaming".
So far my experience has been positive and I am sleeping as good as I ever have. I will continue with my research into the product.
At present the product is not available on Amazon as the owner of the company, Derek Lee, is relocating the family business in another state. As soon as I know  I will be announcing when Lucidimine is available. In the meantime I will post the results of my research on this site approximately once per week
LUCIDIMINE – The 2nd Use Oct. 15, 2018
Awoke at 1:30 AM, did some work online and at 3 AM took one 6 mg Lucidimine pill. My intention was to have a lucid dream about flying or my ancestors. Neither happened, but I did have a lucid dream (1.5 on a scale of 0 to 5) involving 2 older second cousins and one of their husbands.
BACKGROUND
Back in the summer of 2017, on the original homestead of our Great Grandmothers (Mary (SCHNEPEL) HUMBKE – Blog # 15, I had met with her granddaughters (Gloria FONTAINE b. 1937, Gladys FONTAINE b. 1934) and her husband Art MOWAT b. 1933.
Refer to Blog #14 for information on the girls' grandmother Alvina (HUMBKE) FONTAINE who was the second youngest sister off my grand father, Ernest HUMBKE Sr.
SETTING – TIME
The time setting of the dream was in the 1950s, but the 3 participants (Roger, Gloria, Gladys, and Art) were there present ages of 75, 81, 84 & 85. Gloria had married Dan MOWAT who passed away in 2006, but I had never met him. Dreams are not always logical.
SETTING – PLACE
The family home of Lawrence and Marvalin (VANOUCK) HUMBKE built by Lawrence, his brother and relatives in 1937 on his parents [Ernest and Mary (WESTENFELD) HUMBKE's] farm.
The dream takes place in the home of my father and mother on my grandfather's farm. The roads, weather and surroundings were all 1950s and I was visiting my two second cousins to get information in order to write a blog on the girls" grandparents (Dave & Alvina (HUMBKE) FONTAINE Blog #14.
It was winter and there was a terrible blizzard that dumped three feet of snow. The four of us were stranded for the next two days in the cozy two bedroom home.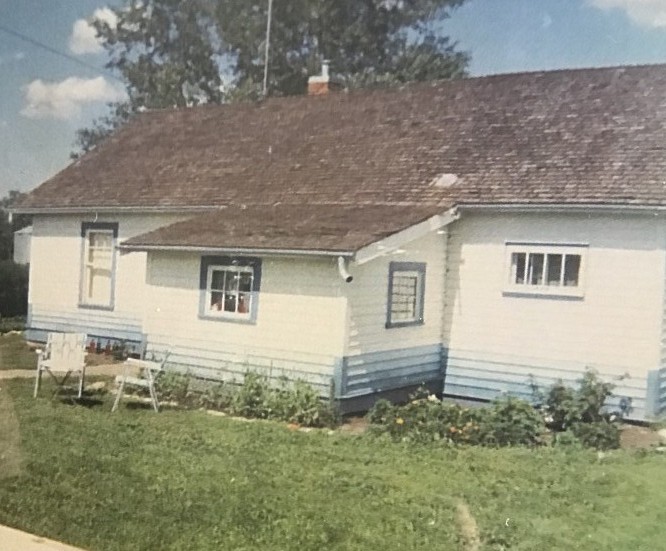 The Humbke family home in 1950 when 3 bedrooms and a pantry were added to make room for a girl, five boys, a wash machine, deep freeze, numerous work clothes and footwear.
THE LUCID DREAM
The four of us passed time in social conversation getting to know each other and shoveling snow. Two days later Gloria had to return to her job as a nurse; farm life resumed; and I returned to Edmonton. As much as I would like to write about what we talked about specifically, it is very difficult to do. It seems all conversations were of a general social type. I have yet to gain the skill of asking question about life in previous times.
The fact that we were all 75 to 85 years of age relating in a physical environment of the mid 1950s was illogical and confusing, as dreams can be.
A SECOND LUCID DREAM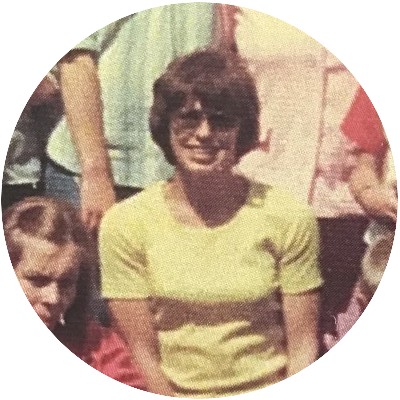 Barbara (HUMBKE) KUSK 1937 – 1982
Later in the afternoon, about 2:30 PM, while i.e. was having a nap, I had a second very short lucid dream in which I was studying at the University of Alberta. All of a sudden Barbara (HUMBKE) KUSK, a first cousin, who had been a victim of cancer in 1982 at the age of 45, walked by. I was very surprise, but managed to call out her name and she came back to talk with me. She looked great, mid-twenties, with a short black haircut.
I was short of words so we said little other than her asking where my older sister, Rose Marie (HUMBKE) PETERS, was. I answered and she was on her way.
My memories of Barbara were that she was the person who helped my big sister Rose Marie take care of a 5-year old hyper active little boy (me) when I started grade 1 at the one room, grade 1 to 9, Verdun school. At school, I was constantly in trouble running away or starting fires.
This dream re-energized my memories of Barbara as a kindhearted and caring individual.
CONCLUSIONS
There is no doubt in my mind that these two dreams occurred because of me doing research on specific ancestors. At this time I believe that Lucidimine also affects my ability to lucid dream, but that my intent and active research play a larger part.
One fact that I have experienced is that in these dreams I have only seen and heard individuals. This has definitely been a very positive experience, but I know touch (i.e. shaking hands or a hug) are somethings I want to experience in the future.
Smell, more than any other sense, brings back intense memories and I did get a very slight scent for a millisecond from Barbara (HUMBKE) KUSK which was unique and positively enhanced the experience. I have often heard that the best way, to bring back memories of past events and people, is through smell and that the house coat of a mother, who has passed, is highly valued by her daughters.
The scientific reason for this fact is that when a smell enters the nose it is processed by the olfactory bulb which is next to and communicates directly your amygdala and hippocampus. These are the regions of the brains that process memories and emotions.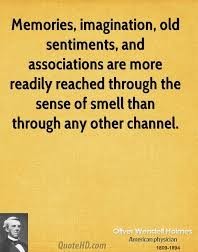 Do you disagree or agree with the statement above? Do you remember the smell of a home you have lived in for a long time? What part does smell play in falling in love?






by