by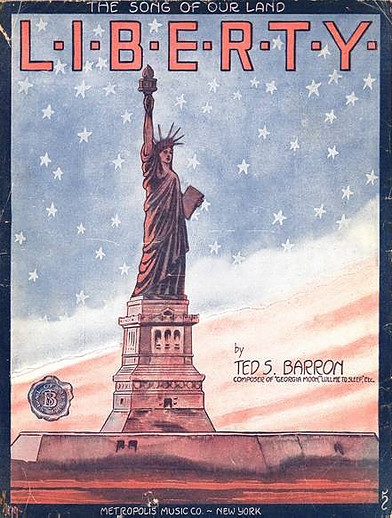 The Statute of Liberty was a gift from France to the United States in celebration of American Democracy. As the statue was commemorated in October 1886 it was probably never seen by the first 6 of the 7 Humbkes to arrive in New York from 1879 to 1883, but it would have been seen by Ernest Humbke Sr. when he picked up his future wife arriving from Germany in early 1902,.
On April 21, 2018, I spent the day at Castle Clinton National Park, The Statute of Liberty and in the Ellis Island Immigration Museum. Before Ellis Island was opened on Jan 1, 1892 immigrants passed through "Castle Garden" in the Battery (originally known as Castle Clinton after the local Governor). Locate in the lower end of Manhattan Island, it served as the New York State immigration station and from 1885 to 1890 approximately eight million immigrants arrived – mostly from Northern and Western Europe (England, Ireland, Germany and Scandinavia).
FIRST Humbke from Windehiem Germany to arrive was my GREAT UNCLE CHRIS HUMBKE(Conrad Dietrich Cristian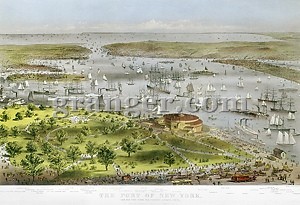 Dominicus Humbke) b. 04JAN1857 Windheim, Petershagen, Germany; arrived at a dock in New York City and at what is now known as Castle Clinton ??APR1879; and d. 1938. The exact date and location of his death in South Dakota, USA is unknown. Chris arrived as a single 22-year old man and traveled to the White Lake area of South Dakota to find land and prepare for the arrival of his eldest brother's family. He married Marie Dirks in White Lake, South Dakota on May 7, 1889, but little is known of his life except that he lost his land for non-payment of taxes and he did appear to have made a trip to the Humbke homestead at Wetaskiwin, Alberta where he appears in a photo with his brother and three brother-in-laws. (see BLOG #10)
Battery Park, New York 1870's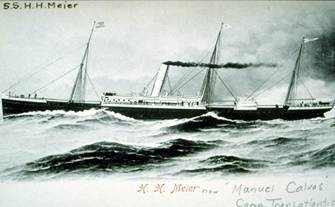 SECOND to arrive was my GRANDFATHER ERNST SR. HUMBKE (Ernst Dietrich Fredrich Humbke Sr.) b. 30OCT1867 Windheim, Petershagen, Germany; d. 26SEP1947 Wetaskiwin, Alberta, Canada. Ernest, at age 15, came on "H.H. Meier" from Bremen, Germany and arrived at a dock on or near the Battery, Manhattan, New York on 12MAY1883. It is not clear whether his Uncle Chris met him on arrival or if Ernst Sr. made his own way to White Lake, South Dakota.

THIRD to arrive were my GREAT GRANDFATHER DIETRICH HUMBKE (Ernest Dietrich Fredrich Christian Humbke) b. 02AUG1845 Windeheim, Petershagen, Germany; d. 21JUL1899 Woden, Iowa USA; GREAT GRANDMOTHER LOUISE HUMBKE (Marie Louisa [Schnepel] Humbke) B. 11SEP1843 Dohren, Lower Saxony, Germany; d. 24NOV1930 Wetaskiwin, Alberta, Canada; GREAT AUNT SOPHIE CONRADI (Katherine Sophie Maria [Humbke] Conradi) b. 17OCT1869 Windheim, Petershagen, Germany d. 04NOV1872 Titonka, Iowa, USA; GREAT AUNT MINNIE CALLIES (Louise Wilhelmine Marie [Humbke] Callies) b. 17Jun1876 Windheim, Petershagen, Germany d. 09SEP1961 Wetaskiwin, Alberta, Canada; GREAT AUNT MARY GEORGE(Marie Louise [Humbke] George) b. 01APR1879 Windheim, Petershagen, Germany d. 08JUN1957 Wetaskiwin, Alberta, Canada; and GREAT UNCLE DICK HUMBKE (Dietrich Fredrick Ernest Humbke) b.21FEB1882 Windheim, Petershagen, Germany d. 01JAN1968 Wetaskiwin, Alberta, Canada. They arrived on the "H.H. Neckar" from Bremen, Germany also at the Battery, Manhattan, New York 04AUG1883 and made their way to Buffalo Center, Iowa before homesteading near White Lake, South Dakota. Two daughters were to be born as American Citizens at White Lake – GREAT AUNT ALVINA FONTAINE (Alvina Maria Sophia [Humbke} Fontaine) b. 14APR1885 White Lake, South Dakota, USA; d. 07MAY1955 Wetaskiwin, Alberta, Canada and GREAT AUNT EMMA HARRIS (Emma Marie [Humbke] HARRIS) b. 29JAN1890 White Lake, South Dakota, USA; d. 11JUL1978 Wetaskiwin, Alberta, Canada.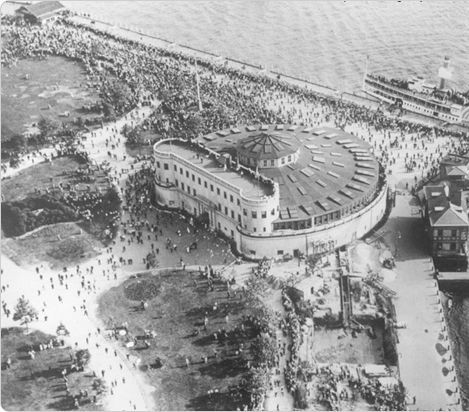 Castle Clinton – New York State immigration station from 1855 to 1890
So the first 3 ships to bring the Humbke relatives from Germany, on our family tree in North America, all docked at the lower berths at the lower end of the Borough of Manhattan and the passengers were transported by local boats to nearby Castle Clinton.



Present day Battery Park (2018) at the lowest point of Manhattan. The orange circular two story building in the center of the photo is Castle Clinton – named after DeWitt Clinton (1769 to 1828) a United States Senator, Mayor of New York City and 6th Governor of New York. The building served at various times as a USA army fort, opera house, America's first immigration processing center house and aquarium. Presently it houses a historical display and is where you can get tickets for a boat to the Statue of Liberty and Ellise Island. If you go try to buy tickets beforehand as the line up can be 1.5 hrs+
Roger and Fanny Humbke leaving Castle Clinton, Battery Park for the Statute of Liberty and Ellis Island,
FOURTH to arrive was my GRANDMOTHER MARY (Maria Louise Sophie Lesette [Westenfeldt] Humbke) b. 22MAY1868 Windheim, Germany; arrived by ship from Germany at Ellice Island, New York, USA. My Grandfather Ernst Sr. had left from the Wetaskiwin homestead on Jan. 2, 1902, for New York where he was to picked up his future wife.
Mary became very sick during the crossing of the Atlantic and lost a lot of weight, possibly due to the fact of being infected by a tape worm. Ernst Sr. was only able to recognize her by a red flower she had arranged to wear. All immigrants were examined by doctors who refused entry to the USA and sent back to the country they arrived from (about 2%). Such families had to decide if they would return as a group or seperate. Others were kept in the hospital until able to travel.
Since it took Ernst Sr. 3 1/2 months to make the trip from Wetaskiwin to New York and back, it may have taken Mary a long time to get well enough to travel. One can only imagine the suffering she went through. Her granddaughters have remarked that she told them of the terrible time she had and that she would never get on another ship, for any reason.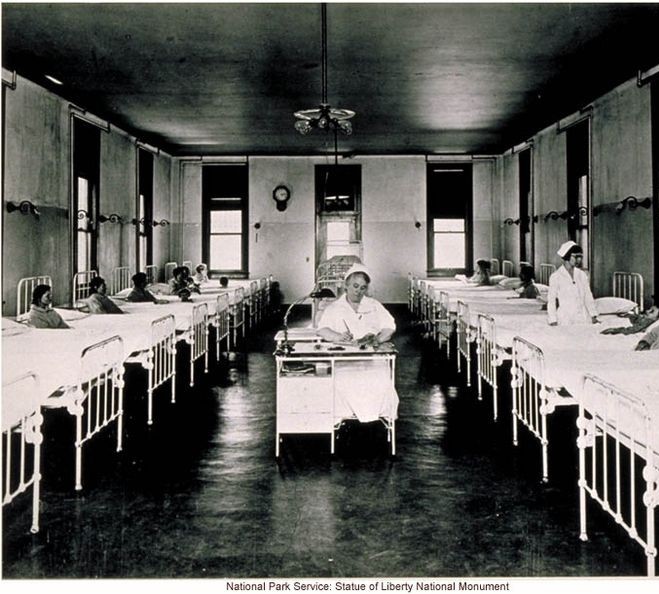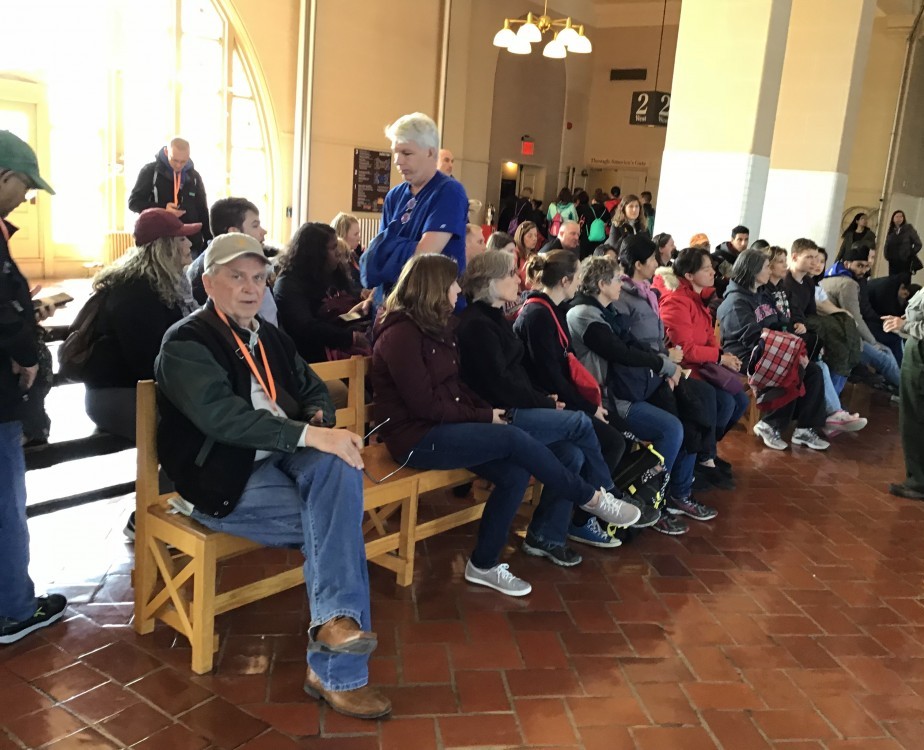 Roger Humbke, on an Immigration benches in the Grand Receiving Hall at Ellise Island, New York, listening to a tour guide describe the experience of immigrants trying to enter the United States in 1902,. Immigrants were marked with a colored chalk indicating which of three doors, at the end of the large hall after a preliminary examination at a row of high desks. The middle door led to further examination, hospital or a ship returning to where they came from. It must have been an extremely distressing experience for both Ernst Sr and May.
Eventually they were able to make their way back to the Duhamel homestead by April 15, 1902, and were married on May 22, 1902,. Together they were to raise a family of three healthy daughters and two sons, one of whom was my father, Lawrence Humbke, who lived to the rip old age of 93.
Castle Clinton, Battery Park in lower Manhattan Island with the tallest building in America – The One World Trade Center
For further excellent information and photos of Battery Park, Castle Clinton, Ellis Island please check out:
http://thebattery.org/history/
https://www.libertyellisfoundation.org/ellis-island-history Below in italics is information copied from this site for your convience.
ELLIS ISLAND HISTORY
Immigration Policy Embraces the Masses
Prior to 1890, the individual states (rather than the Federal government) regulated immigration into the United States. Castle Garden in the Battery (originally known as Castle Clinton) served as the New York State immigration station from 1855 to 1890 and approximately eight million immigrants, mostly from Northern and Western Europe, passed through its doors.
These early immigrants came from nations such as England, Ireland, Germany and the Scandinavian countries and constituted the first large wave of immigrants that settled and populated the United States. Throughout the 1800s and intensifying in the latter half of the 19th century, ensuing political instability, restrictive religious laws and deteriorating economic conditions in Europe began to fuel the largest mass human migration in the history of the world.
It soon became apparent that Castle Garden was ill-equipped and unprepared to handle the growing numbers of immigrants arriving yearly. Unfortunately, compounding the problems of the small facility were the corruption and incompetence found to be commonplace at Castle Garden.
The Federal government intervened and constructed a new Federally-operated immigration station on Ellis Island. While the new immigration station on Ellis Island was under construction, the Barge Office at the Battery was used for the processing of immigrants.
The new structure on Ellis Island, built of "Georgia pine" opened on January 1, 1892. Annie Moore, a teenaged Irish girl, accompanied by her two brothers, entered history and a new country as she was the very first immigrant to be processed at Ellis Island. Over the next 62 years, more than 12 million were to follow through this port of entry.
Ellis Island Burns and Years of Records Lost
While there were many reasons to immigrate to America, no reason could be found for what would occur only five years after the Ellis Island Immigration Station opened. During the early morning hours of June 15, 1897, a fire on Ellis Island burned the immigration station completely to the ground.
Although no lives were lost, many years of Federal and State immigration records dating back to 1855 burned along with the pine buildings that failed to protect them.
The United States Treasury quickly ordered the immigration facility be replaced under one very important condition: all future structures built on Ellis Island had to be fireproof. On December 17, 1900, the new Main Building was opened and 2,251 immigrants were received that day.
Journeying By Ship to the Land of Liberty
While most immigrants entered the United States through New York Harbor (the most popular destination of steamship companies), others sailed into many ports such as Boston, Philadelphia, Baltimore, San Francisco, Savannah, Miami, and New Orleans. The great steamship companies like White Star, Red Star, Cunard and Hamburg-America played a significant role in the history of Ellis Island and immigration in general.
First and second class passengers who arrived in New York Harbor were not required to undergo the inspection process at Ellis Island. Instead, these passengers underwent a cursory inspection aboard ship, the theory being that if a person could afford to purchase a first or second class ticket, they were less likely to become a public charge in America due to medical or legal reasons.
The Federal government felt that these more affluent passengers would not end up in institutions, hospitals or become a burden to the state. However, first and second class passengers were sent to Ellis Island for further inspection if they were sick or had legal problems.
This scenario was far different for "steerage" or third class passengers. These immigrants traveled in crowded and often unsanitary conditions near the bottom of steamships with few amenities, often spending up to two weeks seasick in their bunks during rough Atlantic Ocean crossings.
Upon arrival in New York City, ships would dock at the Hudson or East River piers. First and second class passengers would disembark, pass through Customs at the piers and were free to enter the United States. The steerage and third class passengers were transported from the pier by ferry or barge to Ellis Island where everyone would undergo a medical and legal inspection.
A Record Year for New Americans
During the early 1900s, immigration officials mistakenly thought that the peak wave of immigration had already passed. Actually, immigration was on the rise, and in 1907 more people immigrated to the United States than any other year, a record that would hold for the next 80 years. Approximately 1.25 million immigrants were processed at Ellis Island in that one year.
Consequently, masons and carpenters were constantly struggling to enlarge and build new facilities to accommodate this greater than anticipated influx of new immigrants. Hospital buildings, dormitories, contagious disease wards and kitchens all were feverishly constructed between 1900 and 1915.
As the United States entered World War I, immigration to the United States decreased. Numerous suspected enemy aliens throughout the United States were brought to Ellis Island under custody. Between 1918 and 1919, detained suspected enemy aliens were transferred from Ellis Island to other locations in order for the United States Navy with the Army Medical Department to take over the island complex for the duration of the war.
During this time, regular inspection of arriving immigrants was conducted onboard ship or at the docks. At the end of World War I, a big "Red Scare" spread across America and thousands of suspected alien radicals were interned at Ellis Island. Hundreds were later deported based upon the principal of guilt by association with any organizations advocating revolution against the Federal government.
In 1920, Ellis Island reopened as an immigration receiving station and 225,206 immigrants were processed that year.
Arrival at the Island and Initial Inspection
If the immigrant's papers were in order and they were in reasonably good health, the Ellis Island inspection process would last approximately three to five hours. The inspections took place in the Registry Room (or Great Hall), where doctors would briefly scan every immigrant for obvious physical ailments. Doctors at Ellis Island soon became very adept at conducting these "six second physicals."
By 1916, it was said that a doctor could identify numerous medical conditions (ranging from anemia to goiters to varicose veins) just by glancing at an immigrant. The ship's manifest log, that had been filled out back at the port of embarkation, contained the immigrant's name and his/her answers to twenty-nine questions. This document was used by the legal inspectors at Ellis Island to cross-examine the immigrant during the legal (or primary) inspection.
The two agencies responsible for processing immigrants at Ellis Island were the United States Public Health Service and the Bureau of Immigration (later known as the Immigration and Naturalization Service – INS). On March 1, 2003, the Immigration and Naturalization Service was restructured and included into three separate bureaus as part of the U.S. Department of Homeland Security.
Despite the island's reputation as an "Island of Tears", the vast majority of immigrants were treated courteously and respectfully, and were free to begin their new lives in America after only a few short hours on Ellis Island. Only two percent of the arriving immigrants were excluded from entry. The two main reasons why an immigrant would be excluded were if a doctor diagnosed that the immigrant had a contagious disease that would endanger the public health or if a legal inspector thought the immigrant was likely to become a public charge or an illegal contract laborer.
Please Add your comment and ask any questions.
By clicking on the blog title all previous comments
and a comment box will appear at the bottom of the blog.






by