by

Conrad Dietrich Christian Dominicus HUMBKE (1857-1938) Windheim, Germany to South Dakota, USA in 1879
In 1879 Conrad Dietrich Christian Dominicus HUMBKE (referred to as Chris throughout this blog) arrived in the USA from Windheim, Germany and settled in the White Lake – Plankinton area of SW South Dakota.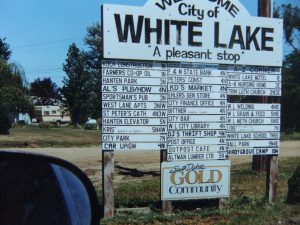 Chris was the 6th of seven children in the family of: Ernst Dietrich Christian HUMBKE b. Jan. 31, 1821. d. Nov. 6, 1866 Windheim, Germany m. Mar. 11, 1845 to Sophie Louise WIEBKE b. Jan. 30, 1819 #22 Holge, Germany d. Nov. 6, 1866 #57 Windheim, Germany. I have no confirmation of the cause of death of the mother and father on Nov. 6, 1866 but it could have been suicide.
Children of Ernst Dietrich Christian and Sophie Louise (WIEBKE) HUMBKE:
Ernest Dietrich Christian HUMBKE b. 02AUG1845 Windheim #57: christened 10AUG1845 Windheim Church; d. 21JUL1899 Woden, Iowa; m. 27OCT1867 Sophie Louise  (SCHNEPEL) HUMBKE Windheim; b. 11SEP1843 Dohren #38; d. 24NOV1920 Wetaskiwin, Alberta. 9 children (7 girls & 2 boys) 2 girls died in childhood
Wilhelmine Louise [Luise] Charlotte (HUMBKE) BUCHORN b. 19JAN1848 Windheim #57; d. 10FEB1933; m. 27NOV1974 Johann Dietrich August BUCHHORN b. 07AUG1849 Ovenstaedt #45, Westfalen. No Children.
Wilhelmine Sophie Louise Charlotte HUMBKE b. 13JUN1850 Windheim 57, Christened 30JUN1850 Windheim 57, d. 17JAN1854 Windheim 57.
Louise Sophie Caroline (HUMBKE) HANKE b. 02SEP1852 WINDHEIM 57; d. 24MAR 1878 Windheim #148; m. 13DEC1878 Windheim #149 Carl Friedrich August HANKE b.23OCT1849 Windheim #149. They had twin daughters who died shortly after birth.
Ernst Heinrich Christian HUMBKE b. 31AUG1854 Windheim #57; d. 08JAN1938; m. 24SEP1886 Johanne Charlotte Sophie (ROMBKE) HUMBKE  b 24NOV1860 Windheim #21. Had 2 girls and 3 boys.
Conrad (Chris) Dietrich Christian Dominicus HUMBKE b. 04JAN1857 Windheim #57; Christened 18JAN1857 Windheim #57; d. 07JAN1938 South Dakota; m. 26NOV1889 White Lake, South Dakota to Marie DIRKS b. South Dakota. Had one daughter
Conrad Dietrich Friedrich HUMBKE b. 07MAY1859 Windheim #57; d. 07JAN1864 m. 23OCT1885 Windheim #44 Louise Lisettte Dorothee (DAVID) HUMBKE, b. 07JAN1864 Windheim #13; d. 15JUL1886 Windheim #44. Louise died at the birth of a child which died 1 1/2 months later. Second wife was Hanna Christine Wilhelmine (BRINCKMANN) HUMBKE b. 14NOV1861 Ilserheide, Lahde #4, m. 18DEC1888. They had 10 children.
Immigration to the United States from Germany
From 1820 to 1996 more people of German ancestry immigrated to the United States than from any other country: Germany – 7 million; Mexico – 5.5 m.; Italy – 5.3 m.; Great Britain – 5.1 m.; and Ireland – 5.1 m.
Germans choose the best farmland and in 1890, 40% of the farmland was owned by German Americans.
Cities also had a high number of German immigrants: Milwaukee 70%; Cincinnati 54%; St. Louis 45%; Buffalo 43%; Detroit 41%; Cleveland 38%; Chicago 35%;  and New York 32%.
In 2000 the actual number of German-Americans is approximately 25% of the population of the USA.
Chris, at age 22, was sent by the Humbke family to America to find cheap farm land where they could settle. He arrived in New York by ship in April, 1879 and went West to Iowa and South Dakota. Ernst Sr., Chris's nephew and eldest son of brother Dietrich, arrived on May 12, 1883.
Dietrich, his wife and the other 4 children, followed in August, 1883. They probably took an immigrant train from New York to Buffalo Center, Iowa where they stayed one year before settling in South Dakota in 1884
It appears that from 1879 to 1938 Chris lived on his homestead, farmed land and was a laborer, primarily in the White Lake/Plankinton region of South Dakota. His brother Dietrich and his family joined  him there from 1884 to 1891 when they moved to the Tionka/Woden region of Iowa. There were many other German settlers in that area of Iowa and a strong German Lutheran Church had been established.
Chris HUMBKE arrived in New York, April, 1879 and became an American Citizen on Oct. 7, 1884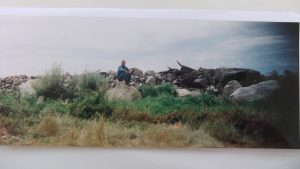 Not much in known about the activities of Chris other than he lost his homestead for non-payment of taxes; married a German girl, Maria DIRKS, on Nov. 26, 1889; and had a daughter, Louise HUMBKE, on April 13, 1990.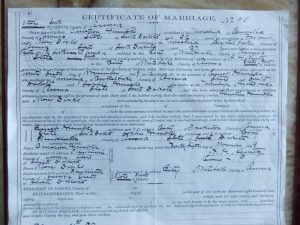 Marriage License of Christian HUMBKE and Mary DIRKS dated 12 noon, Nov. 26,1889, White Lake, South Dakota in the presence of witnesses his nephew, Ernst HUMBKE Sr. and niece, Sophie HUMBKE.
Upon receiving a homestead the first three tasks were to build a home of mud mixed with grass, that had a window and door; dig an earth fire guard around the house to prevent destruction of the home from a prairie fire; and prepare & plant a garden for food. Then the land was broken for seeding corn or wheat.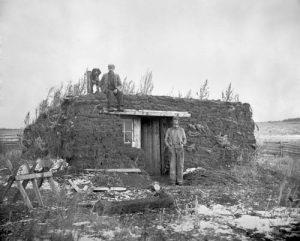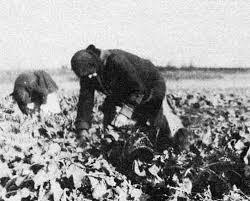 In researching the lives of the two brothers who came from a family of eight and settled in North America; Dietrich's own family totaled eleven and provided him with 46 grandchildren whereas Chris had a wife, one daughter, and one known grandchild. I could not help but feel a certain sadness for Chris, mainly because I could find so little information about him and have not found where he is buried in South Dakota.
A few contributions of Geman Culture to life in America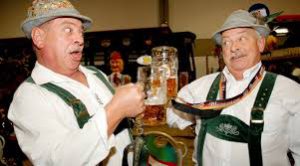 Family events surrounding Christmas Trees, Santa Claus and New Year's Eve were all introduced in America by German Americans. They also created a more relaxed, less puritan attitude towards Sunday. For them it was also a day of rest, relaxation and enjoyment with the family.
For further reading check out: http://www.germanheritage.com/essays/
As I read more about my grandfather, great grandfather, their wives and families, I realize the great trials and tribulations they went through to provide the life of convenience and luxury that we live today. They left a tremendous legacy we can all be proud of.
Your thoughts and questions are encouraged. I would appreciate any suggestions as to how to find more information about Chris – where he is buried in South Dakota and the NAMES & LOCATIONS of any passed or living descendant of:
Chris and Mary (DIRKS) HUMBKE & daughter Louise HUMBKE
Alex and Louise (HUMBKE) DIRKS & daughter Violet DIRKS
Unconfirmed information indicate Louise HUMBKE married Alex DIRKS b. July 20, 1884 in Syria. Louise died May 12, 1973 and Alex passed away Oct. 15,1974. They are both buried at Hill of Rest Memorial Park in Sioux Falls, South Dakota. According to the 1940 census daughters Violet was born in 1917 and Verena in 1919.






by