by

GREAT GRANDMOTHER SOPHIE MARIA LOUISE HUMBKE (SCHNEPEL) BRINGS HER FAMILY FROM WODEN, IOWA TO 3 HOMESTEADS 14 MILES EAST OF WETASKIWIN, ALBERTA IN APRIL, 1901.
Preamble: Before beginning this blog I would like to urge you to read an article by Brett & Kate McKay published Nov. 21, 2016 "Memory is Moral: Why Every Man Should Do His Genealogy" www.artofmanliness.com.
The most meaningful two reasons for finding out about our relatives are expressed in the following two quotes which are taken from the article.
          "Along the chain of your family line, there are folks who faced hardship,                 suffered, and found the strength to continue on. Even if they weren't perfect           people, they did do one thing well: they stayed alive — long enough to pass           on their genes, long enough to impart the blood that now runs through                   YOUR veins. They gave you the gift of life, and shaped you into who you are             today."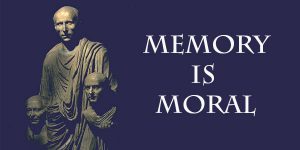 "Preventing the Second Death, or How Memory Is Redemptive"
             Every person dies twice.
             The first death comes when their body physically expires.
             The second occurs when their name is spoken for the last time.
             For most people, their second death arrives when the last person they                      knew during their lifetime also passes from the earth. No one remains                      who knew them in the flesh, and their memory is buried along with their                bones.
             For those people whose posterity does their genealogy, however, their                      memory never dies. Their name is read and known by he who first                            compiles a family tree, and by all the individuals who come after and                        keep sacred the record.
             Viewed in this light, genealogy is an act of redemption. Through our                        family history research, we can save our ancestors — even the lowliest                      and most apt to be forgotten — from the second death.
              Memory is moral."
Louise Humbke's (Schnepel) Family in Germany
My Great Grandmother (some of you will refer to her as Grandmother; Great GM; Great Great GM; or Great Great Great GM) – the Matriarch of the Humbke Family in the USA and Canada, was Sophie Louise Humbke (Schnepel). This name was verified by Reverand Robert C. Greene while visiting churches in Windheim and Dohren, Germany. Reverend Bob's wife in a 6th cousin, one removed, of my grandfather Ernest Dietrich Friedrich Humbke Sr. The Reverend lives in Georgetown Texas and as a Master Genealogist has added over a million individuals to his family tree in Nov. 2015.
On documents and during her life in North America Great Grandmother was most often referred to as Louise. On her will, written in 1923, Louise signed with a "X", possibly because of age as she did sign with a signature on earlier occasions.
Louise was born at #38  Dohren, a small German village a few miles North of Windheim on the (East) side of the Weser River. If you go to Germ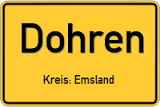 any a great trip would include the German Emigration Center & German Maritime Museum in Bremerhaven; plus a trip up the river by boat from there  to Windheim or the closest city the boat docks.
Louise was born on 11 Sep 1843 to Johann Fridrich Konrad Schnepel b. 24 May 1807 d. 26 Feb 1875 and Marie Luise Elizabeth Schnepel (Kaelcke) b. 15 Jan 1814. They were married 24 Dec 1833 in Dohren.
Johann's siblings were a. Marie Sophie Elisabeth m. to Conrad Diedrich Nurge; b. Johann Cord Diedrich m. to Christine Luise Charlotte Berning; c. Johann Diedrich Conrad m. to Marie Christine Wilhelmine Nurge; d. Marie Sophie Wilhelmine m. to Friedrich Conrad Wilhelm Lubkemann; e. Christine Luise m. to Johann Friedrich Christian Schnepel.
Luise's siblings were a. Caroline Luise; b. Sophie Elisabeth; c. Johann Conrad Diedrich m. to Christine Wilhelmine Dammeier; d. Sophie Luise Wilhelmine m. to Johann Friedrich Konrad Kaiser; e. Marie Caroline Charlotte m. to Heinrich Wilhelm Schopman; f. Johann Friedrich Wilhelm; g. Sophie Charlotte m. to Friedrich Conrad Mertens..
Louise's siblings were Ernest Friedrich Conrad m. to Catherine Lisette Dorette Busching and Auguste Wilhelmine Luise.
Louise Schnepel marries Ernst Humbke has 7 children in Windheim & moves to USA.
Louise was married on Oct 27, 1867 in Windheim to Ernest "Dietrich" Christian Humbke and 3 days later their son Ernest Dietrich Christian Humbke Sr. was born. During the 1800's in Germany the birth of illegitimate children was a common occurrence and often meant the child could not inherit property. As a result, children born during the 8 month period after a marriage was a common experience.
After her son Ernest Sr.,  Katherine Sophie Marie  was born on Oct 17, 1869, and then Louise experienced the grief of losing her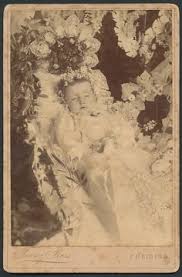 next two children.
Sophie Wilhelmine Louise was born on Aug 30, 1872 and died 2 months and 8 days later on Nov. 4. Another daughter, Sophie Louise followed quickly in Oct 3, 1873 and then Louise Wilhelmine Marie on Jun. 17, 1876, before the second Sophie died on Feb, 1878 at age 4 yrs. and 4 m.
"In the past, the German dead were buried by different rules. Before mortuaries and undertakers, neighbors and friends helped out. The body was washed, dressed and laid out in the parlor. People mourned their dead by wearing black. According to some practices a widow had to wear black 1-5 years (some wore it for the rest of their life). Parents and in-laws were required to wear black for 1 year, so were children. Grandchildren wore black for 6 months. Germans differentiate between "tiefe Trauer" and "stille Trauer" showing by outward signs how the death of a loved one affects them and what importance they thought they must place on the burial ritual. Most people could afford to only bury their dead without elaborate ceremonies and have the death registered in the local church book. Many of these entries consist of one line, giving very scanty information."
One can only reflect on their names, dates and the joy the two deceased girls must have brought their parents and siblings. The memories of those two girls, plus all other still and premature deaths, should be remembered in family histories. A special church service should be held at all family reunions where the names are called out, of all ancestors who have passed away prematurely.
Dietrich and Louise Humbke arrived in the USA in 1883 and spent a year at Buffalo Centre, Iowa before going to White Lake, South Dakota where they homesteaded and added two more girls (Alvina & Emma) to their family. In 1891 the family bought and moved to a farm North West of Woden, Iowa where they settled until 1901. In 1899 Dietrich was killed in an accident and in early 1900 Ernest Sr (now patriarch)  went to Alberta, Canada were he filed for 3 homesteads. He returned to Iowa where plans were made to move to Wetaskiwin, Alberta in early 1901.
Ernest Humbke sr., Dietrich Humbke & brother-in-law, Carl Callies head for Wetaskiwin to be followed by Louise, 4 daughters & grandson, Herman Callies .
On March 16, 1901 the men left Woden, Iowa with 3 boxcars of machinery and animals to prepare homes on their Alberta homesteads. Two weeks later Louise, Minnie, Mary, Alvina, Emma and 2 yr. old  Herman leave Woden and arrive in Wetaskiwin 4 days later (April 4, 2001) on the first all passenger train running from Calgary to Edmonton.

Emma Humbke (Harris) gave the following account of their journey:
"Oh yes, I remember the trip as if it happened yesterday! We came to Calgary on a Thursday and went into the immigration office. We must have got there some time during the night, as it seems to me, because we were in a big hall with a lot of other people. We took the train the next morning from Calgary. There had been only two trains each week from Calgary to Edmonton. There were passenger cars mixed in with freight cars, but we were on the first all passenger train between Calgary and Edmonton. We arrived in Wetaskiwin the afternoon of April 4th, 1901. I was eleven years old at that time."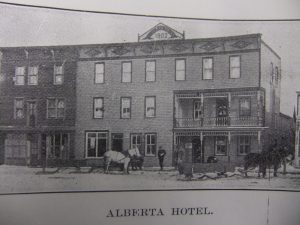 "We stayed overnight in the Alberta Hotel. There were six of us in total so some of us had to sleep on the floor of the room. The men had arrived earlier in March and were suppose to have a house before we got there, but as the spring was so wet and there were no real roads, the house did not get built. The only roads that I can remember went from one farm to another. It took one day to get to town and then another day to get back to the farm to haul in the lumber. Even with four horses on the wagon they would get stuck most of the time. Although town was only thirteen miles West of the homestead it was a long ways around at that time. We had to go by the Reimer's bridge which, as far as I can remember, was the only bridge across the river."
"We hired a dray to take us out to the homestead. As the house was not yet built, we had to stay with the neighbors. The neighbors had a small house with only one room and an attic but we stayed with them for ten days while the men put up a shack and we could get out of the rain."
Source "New Berlin | Verdun School (1902-2002) 100 Years of Memories"
HOMESTEADING on virgin land 14 miles east of wetaskiwin & preparing for winter
Since the men were hauling lumber from Wetaskiwin, their frame home would have been considered an improvement over the sod home they had in South Dakota or a common log cabin. The first shelter was small, but they would soon have a 16′ by 26′ (416 sq ft) frame house that the 4 adults and two grown children would call home.
On Sworn statements and Statutory Declarations in 1904, that gave Louise, Ernest Sr. and Diedrich Humbke clear title to their 160 acres each, the value of Louise's house was $400 (approximately $11,000 in 2015 dollars). They could all live in one home from which they could look after their three connected quarters (160 acres each) of land. In 1902 Ernest Sr. would marry and build his own 320 sq  ft home and in 1903 daughter Mary would marry and move to Joe George's (her husband) home.
Their first Canadian prairie winter would be on them in 6 months and they needed to grow a garden; prepare a fire guard; dig a well; build shelters for the animals; prepare a wood pile and put up hay for the livestock; and start breaking the land. From 1901 to 1904 Louise listed on her documents that she had constructed a stable, chicken coop, pig pens, smoke/root houses and 1 mile of barb wire fence.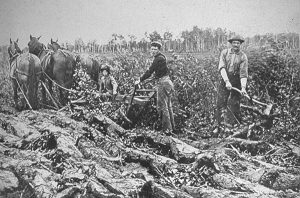 The Homestead Act gave a claimant (160 acres, or 65 hectares) for free, the only cost to the farmer being a $10 administration fee. Any male farmer [Louise was one of the few women granted a homestead] who was at least 21 years of age and agreed to cultivate at least 40 acres (16 ha) of the land and build a permanent dwelling on it (within three years) qualified.
On 14 Sep. 1904 Louise received her Certificate of Naturalization as a British Subject, and is within Canada, entitled to all political and other rights, powers and privileges, and is subject to all obligations to which a natural born British subject is entitled or subject within Canada.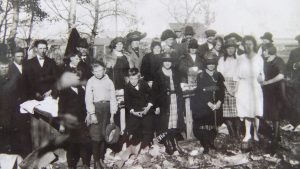 Louise stayed on the homestead until around 1923/24 when she divides her 160 acre homestead, giving 80 acres to each daughter – Alvina and Emma. She moves to Gwynne and helps out in her son Dietrich's general store. Emma also worked at the store. I have no details of who she resided with during her 6 years in Gwynne. Please advise if you have more accurate or detailed information by email to rogerhumbke@hotmail.com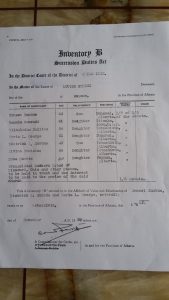 Louise health was fading and she may have been in Wetaskiwin a month or a year before she passed away on Nov. 24, 1930 at age 87. She was interned at the Wetaskiwin City Cemetery by the water tower. Her upright tombstone was broken sometime in the 2000's, but has since been repaired leaving the line 1/3 up from the bottom. One can only wonder about the mental state of individuals who do such acts.
In her will Louise's assets were valued at $4,189.19 ($57,604 value in 2016 dollar)s. One third $1,396 (2016 $19,197) was given to the Lutheran Church and two thirds $2,793 (2016 $38,407) was divided evenly between her seven children.
The greatest joy I have gotten so far, from pursuing an interest in knowing more about my ancestors, has come from the feeling I now know my great grand mother as a person. Research over a longer period of time; visiting her grave site a number of times; talking with others about her life; finding out who her parents were; and realizing the trials, tribulations and triumphs she experience during her life have all resulted in me being able to say "I Love You Great Grandma Louise. I hold proud memories of you in my heart!"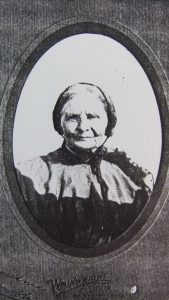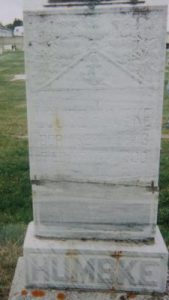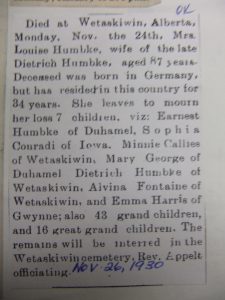 by