by

PREAMBLE  In acquiring the skills to build this website and write a blog about the Humbke family in North America (1869 to the present) I thought the main benefits would be a personal awareness of my ancestors' and relatives' history, as well as developing the skills to eventually create an online business.
I was mistaken!
One of the main benefits is the feeling of a personal connection with my ancestors along with their trials, tribulations and triumphs. They may be long-gone and now in cemeteries across North America, but they have become a real memory and now live in my heart.  
BUT I must tell you that the greatest benefit and joy has been in meeting living relatives across North America and getting to know them as individuals. Through reunions, the internet, post and phone I have found second cousins  that I did not know existed. It is most amazing that a level of trust between total strangers can develop so quickly.
Such has been the case with the Conradi branch of the family, now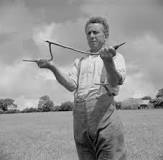 living in Bossier City, Louisiana. We connected through emails and our three SKYPE conversation lasted close to  an hour each. The memories we have shared have enriched both of our lives and now I want to go to Louisiana and meet Bernie and his family in person. I have googled his home and read the family tree/history he has developed, as well as researched dowsing (water witching) – a gift his father used to great benefits throughout his lifetime.
61 years ago Bernie, age 16 and I, age 12, did meet when he visited the Wetaskiwin area with his mom and dad. Our memories of the time are few but they sure are interesting and did spark  engaging conversation. My most vivid memory is that his mother wore a patch over one eye and had made me thinking of pirates. Now I know she had a problem with her retina at that time.
Bernie's father  dowsed for water on many of his relatives' farms in the Wetaskiwin area and the second water well on my parents' farm was located  by him. Present day relatives and occupants of Humbke, Callies, George, Fontaine and Harris properties continue to benefit from Conrad's unique gift.  
Henrich Conrad Conradi & Catherine Sophie Marie Conradi (Humbke) family of Titonka, Iowa.
Both Henrich's (referred to as Henry C.) and Sophie's parents were from Windheim County in Prussia.
Sophie was born in the Village of Windheim, Windheim County in Prussia on Oct 17, 1869 and arrive in America at age 14 with her parents Ernst Dietrich Christian and Marie Louise Humbke (Schnepel). The family spent their first year in Buffalo Center, Iowa and then homestead on 160 acres of land South East of White City, South Dakota. Sophie's family suffered 7 year of little rain before they moved back to the Woden/Titonka area of Iowa were they remained until 1902.
Henrick's parents were from the village of Nevenknick, Windheim County, Prussia and had settled in Wellsburg, Iowa where Henry C. was born on Sept 3, 1869.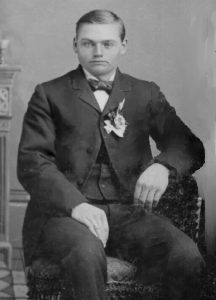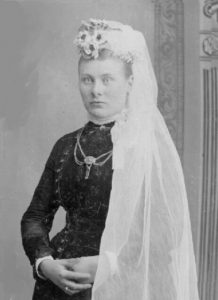 Henry C. (age 22) married Sophie (age 22)  on Sept. 25, 1891 in Wellsburg.  They lived in Wellsburg where they had 3 children before moving to their farm NW of Woden Iowa:
Henrich Conrad Dietrich Conradi Jr.  b. July 8, 1892 Wellsburg d. July 18, 1892 at 20 days
Conrad Ernest Conradi  b. Aug 25, 1893 Wellsburg, Iowa      d. Jan 5, 1975 Corpus Christe, Texas  m. Mar 16, 1929 to Della Ella Arndt    Children: 2 boys (Arthur & Benard)
Louise Charlotte Sophie Conradi                                                                          b. Jan 9, 1896 Wellsburg d. Aug 31, 1970 Titonka   m. Apr 22, 1936 Nashua, Iowa to Clarence William Mechler. His first wife was Frances Mechler who died given birth to a son, Douglas Mechler on June 18, 1933. Douglas would become Louse's adopted son.
In 1899 Henrich & Sophie Conradi would move to Woden, Iowa
Here they bought land from her older brother, Ernst Humbke Sr. The Conradi farm was one mile East of the German Luthern Church and across the road from Sophie's parents home in Winnebago County. They would continue to farm this land until 1914 when Henrick Conradi passed away.
From 1914 to her death in 1951, Sophie would spend her life in a house in Titonka, Iowa where she lived in the basement and entertained guest on the main floor.
In 1936, brothers Ernst and Dick Humbke visited family in Florida and on there way back to Alberta, stopped to  visit their sister Sophia in Titonka, Iowa (May, 1937).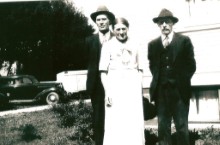 Sophie lived off the rent from the two farms she now had (her father's farm and the one Henrich and her had bought from Ernst Sr.).
Upon Sophie's death on Nov. 6, 1951 (age 82) the original farm of her parents went to her daughter, Louise and the original Conradi farm went to her son Conrad.
I look forward to returning to the Conradi families in the future when I cover in more detail my dad's and my generations. In the meantime Bernie has offered to share his family tree/history. Please contact me if you are interested.
Blog # 7 will deal with the Carl and Minnie Callies family who were also married in Iowa, but immigrated to Canada in 1902 with their 2 year old son and Great Grandmother Louisa Humbke with her remaining 5 unmarried children.






by